Finally, I have an answer to my kidney donor question, will I give one away?  I've been involved in the evaluation process since January and finally got The Decision from Mayo Clinic's transplant committee on September 5. For the back story, here is part one, two and three.
Here's what's happened since:
I had to go back to the Mayo Clinic to have a kidney biopsy to make sure I didn't have any disease that was causing the small amount of red blood cells in my urine.  I was ready to get on with it, and frustrated to hear the next available appointment was another three weeks away.  Even more surprising was to hear I had to stay for 2 days and then make another trip to get the results.
I settled down quickly and let go of my expectations of having a quick answer.  I accepted we would have more travel expense and more time off from work.  It's harder for Bob to be off, but I knew he wouldn't think of me going alone.  I remembered what was important–helping Liz get a kidney.  We were dedicated, it's a process and we needed to persevere.  My gut was telling me to keep going (or maybe my kidney).
The kidney biopsy went well.  I laid on my stomach where ultrasound was used to see my kidney.  I had a shot of Lidocaine to numb the area (the only part that hurt).  The doctor took 2 small samples of the outer part of my kidney that she reached with a needle and snipped out. It sounded like a staple gun.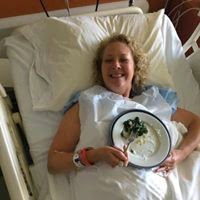 Next I had to lay on my back for 8 hours to put pressure on the puncture site to keep it from bleeding.  The biggest risk of a biopsy is bleeding and they're serious about things at the Mayo Clinic.  I couldn't get up at all for 8 hours so I learned to use a bed pan and eat while laying down.  It was much harder than I anticipated.
To be honest, it seemed like overkill to have to be in the hospital for 24 hours feeling fine and having no problems.  But maybe I had no problems because of how thorough and cautious they are at Mayo Clinic.  I'll go along with how they do things, knowing they know more about it than me.  I liked ordering room service anytime I wanted and Bob getting to stay in my room with me on a nice pull out sofa bed.
The next week I got to meet with Dr. Martin Mai, the Director of the Transplant Department.  After all, according to my physician's assistant, Ashleigh, I drove all the way to Jacksonville to get the results, so I deserved an explanation from the head honcho.  Dr. Mai was great at breaking things down in a way I could understand.
The results show I do not have any kidney disease.  They did find a reason for blood in my urine.  It's the best reason I know of because it is benign and doesn't cause any problems.  It's called Thin Basement Membrane Disease, otherwise known as Benign Familial Hematuria.  Dr Mai explained that the kidneys  have capillaries balled up into little balls, covered by a membrane.  Sometimes the membrane is thin and a few red blood cells slip through.  He likened it to a tire that has rubber on the outside but a steel belt underneath.  The membrane is like the steel belt.
I was happy there was a reason for the blood in the urine so that the Transplant Committee would have their answer. I was glad the reason doesn't present any health concerns.
I was approved by Transplant Committee at their next meeting. So the answer is yes. I will give a kidney away.
 
I am so blessed with good health and supportive family and friends, I want to share my wealth of health.  That rhymes!
Liz and I are now in Mayo Clinic's big kidney database in Rochester, MN.  They are looking for a recipient match for my kidney and donor match for Liz.  When we both have matches they will notify us and we will have our surgeries scheduled.  It could take a week or a year.
I'm moving forward with my active precious life and will adjust my schedule when I get word that it's time to give my gift. I hope it's soon, but I will be patient. (I guess I'll have to be a patient patient).
If you have any questions for me personally, or about kidney donation ask me.  I'll try to help.